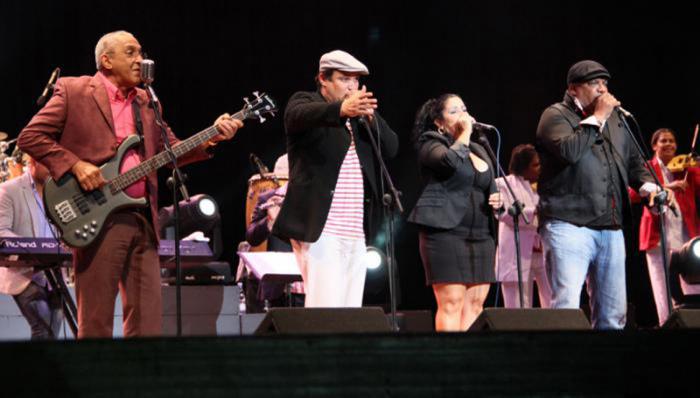 Today, we want to talk about a true millionaire, not the one who has a fortune in money, but someone who knew what to do and predicted the future of his musical career to reach the hearts of millions of Cuban people, which assumed as their own the birth of the orchestra founded by him. When on December 4th, 1969 Juan Formell decided to appear on an improvised stage located on the streets P and 23, nobody could imagine that it was the beginning of a leyend baptised as Los Van Van
However, the performance of the orchestra back then, where different musical styles predominated, didn't semed to captivate the audience. Its destiny was reserved for another period. The strong maturity of the young talented Formell made him moves forward towards the unknown horizons of music and the new sonorities.
Such perspective of artistic creation, which won't abandon him, projects to make Van Van in a particular event, given that this type of music is not only to be heard or danced, it is to be stored as a Cuban heritage of the music.
If someone thaught that it was just another popular orchestra, the dimension of its longlasting stylistic mark is responsible for its success, leader in a very demanding context of polular music in our country.
It is enough choosing three songs, the most representatives in its repertoire, just to understand once and forever that they are the owners of the rhythm and the passion for popular music: "Por encima del nivel", "Ven, ven, ven" and "Me mantengo". That is why there is no mystery when we realize that the prestigious Formell' s band goes from a decade to another without loosing their top position of preference that the people themselves have given to it. Not to mention the logical changes of its members during all these years. Among its fans, there are those who prefer and are more identified with the style the orchestra had in the 80's; while others prefer the revitalizing sonority of the first decade of this century. What is true is that we all agree on the following: saying Van Van is making reference to one of the essential musical elements in the national identity. It is not about how many hits they got, or if the orchestra reached more fame than other bands. It is about a really important and valuable fact in the universal heritage of our music, which is thanks to the sensitivity of its master, Mr. Formell, who convinced us that no matter when and where we are: we are going to feel always identified with our roots and nationalaity.
When people pass by this corner, P and 23, they not only remember the memory of Juan Formell, but the memory of those who went with him in this beatuful adventure: Van Van
Edited by Francisco Martínez Chao
Translated by Susel Esquivel