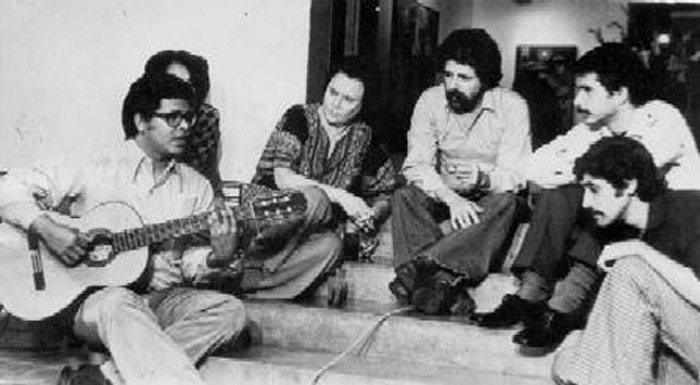 The valuable contribution of the group Experimentación Sonora GESI of the Cuban Institute of Art and Cinema Industry ICAIC was outstanding in the national cultural panorama. Founded by good artists linked to the industry 50 years ago.
Leo Brouwer, who led the musical part of the project stated that GESI, contributed to join authors and interpreters of melodies that were part many times and with great success of the audiovisial project of the Cuban Industry of the Cinema.
The idea was initially conceived by Alfredo Guevara, president of the ICAIC and it was supported by Haydée Santamaría, who was in charge of Casa de las Américas. Then, the singer-songwriter Silvio Rodríguez agreed too, being one of the exponents of this project along with Pablo Milanés, Noel Nicola, Eduardo Ramos, Emiliano Salvador and Pablo Menéndez, just to mention some of them.
Mr. Menéndez narrated the assistants with dedication in a commemorative activity. This Tuesday at Centro Cultural Fresa y Chocolate, the dovotion of that generation of who were young musicians that gave part of their works of quality and enrished our cultural heritage.
Opinions considered essential for the creation of the GESI the link with the ICAIC, that came as a first task in the cultural goals assumed by the emerging Cuban Revolution which integrated to its leaders all movements of the culture, but mainly for this project, the musicians, musical editors and sound experts.
Jerónimo Labrada, Nacional Award of Cinema, who declared how, with few resorces the GESI was capable of contributing to the Cuban musical universe with songs that motivated even the youngest generation and audiences of all ages and times.
Many stories were heard in the tribute payed to the members of this project. Its female figures were, among others, Sara González.
Dolores Calviño, second director of Cinemateca de Cuba declared that, next year, a concert will take place in tribute to the GESI.
This Tuesday, on the 2nd floor of the building of the ICAIC, a photos exhibition took place abut the project. A local stamp was made public in the place were the members of the GESI used to rehearse.
Portraits were given. Ramón Samada, president of the ICAIC dcared to the Cuban News Agency that this project was very special to strengthen the Cuban music.
To the GESI we thank anthology songs that were part of many Cuban movies of that period, the 70's, songs such as "¡Cuba va! ", "Canción de la nueva escuela", "¿Qué dice usted? ", "No tenemos derecho a esperar", "Canción de los CDR" y "Canción para la Columna Juvenil del Centenario".
The Agency EGREM will also pay tribute with a collection of 4 CDs containing songs and musical pieces created durig the years of the GESI.
Written by Teresita Jorge Carpio for Agencia Cubana de Noticias
Translated by Susel Esquivel